The Polar H10 Kit Includes all you need to track heart rate for up to 10 athletes
For live heart rate data via the FREE Polar Team App for iPad.
Kit contents:
- 10 x Polar H10 Heart Rate Sensors
- 1 x Storage Pouch
- 1 x Mesh Washing bag
- Stickers for marking sensors with student numbers
- 10 x Spare Batteries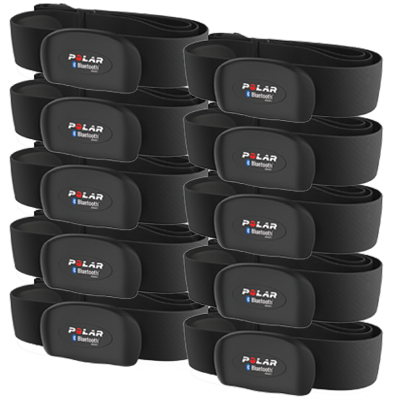 Wearable technology company Polar has introduced the H10 Bluetooth Heart Rate Sensor, with the new version of the chest-worn device offering greater accuracy over previous models, plus the ability to be connected to an iPhone and Apple Watch using the company's app. To fit size Medium to 2XLarge.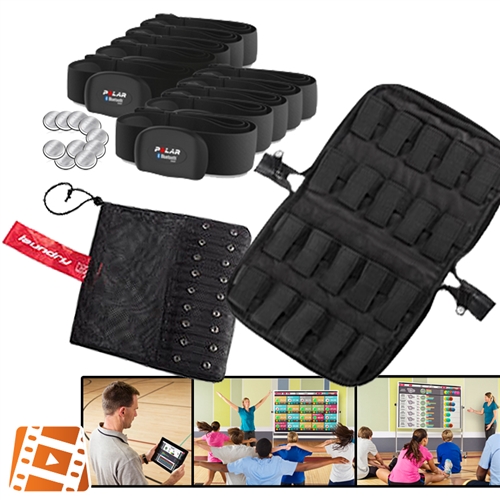 The Polar H10 is a combination of enhanced hardware and an improved heart rate algorithm. Extra electrodes have been include in the chest strap, with "silicone friction dots" preventing slippage of the waterproof band.

When paired with Polar's free fitness and training app for the iPhone and Apple Watch, users can access real-time heart rate data and training guidance. For those who prefer to train without a phone, the Polar H10 can store one training session in its built-in memory, allowing users to sync sessions later.



Besides just iPhone connectivity, the heart rate sensor is compatible with "several" Android devices, and Polar's own line of Bluetooth monitors. Later in 2017, Polar H10 users will also be able connect their heart rate sensor to GoPro's Hero4 and Hero5 cameras, with the sensor providing and overlay of heart rate data on the captured video.

You can connect your Polar H10 with your Polar Beat and get accurate real-time heart rate directly to your phone. Although if you are not a fan of working out with your phone, you can track your training session without your phone with you and transfer your heart rate data to Polar Beat after you finish. Just start a training session in the app, leave your phone waiting and get moving.
The Polar H10 is compatable with leading fitness apps, gym equipment and many other Bluetooth compatable devices.
Polar H10 is fully waterproof and transfers heart rate data in water with 5 kHz transmission.
Polar H10 comes with Polar Pro strap
OS mobile devices iPhone 4S and later and Android mobile devices with Bluetooth 4.0 capability and Android 4.3 or later.
Polar H10 N HR Sensor 10-Kit M-XXL
$1,538.90

Ex GST: $1,399.00
Related Products