ALULINE INTERNATIONAL HOCKEY GOAL
Selected Australian References:
Sydney Olympic Park (Sydney)
National Hockey Centre (Canberra)
The Pines Hockey Stadium (Adelaide)
State Hockey Centre (Melbourne)
State Hockey Centre (Brisbane)
Newcastle International Hockey Centre
Marrara Hockey Centre (Darwin)
Modelled on the FIH requirements, this goal features a heavy-duty aluminium extrusion that will never rust or stain synthetic fields but yet tough enough to withstand the impact from ball hits from top level players. Profiled aluminium backboards with polyurethane poured on the inside for correct ball rebound. No more rotting plywood backboards.
Internationally required free hanging net system so the ball cannot ricochet off the net support framework

New lockable net connectors that are firmly held in place, so the ball cannot sneak through the back of the goal

Supplied with heavy duty braided nets and heavy duty rear wheels.

Still light enough so one person can move on their wheels.

Supplied in kit form for ease of transportation.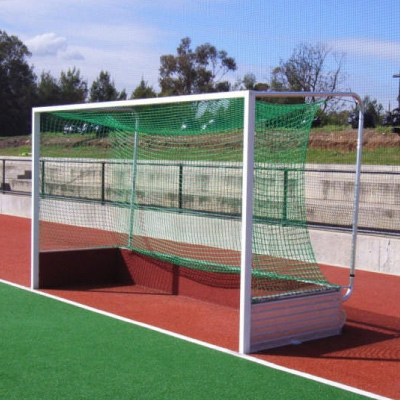 Hockey Goals International Aluminium (Pair) *Plus delivery
$7,419.50

Ex GST: $6,745.00