Totem Tennis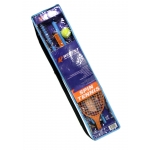 Kit Contains: 1 x Super Base 1 x Adjustable Telescopic Post 1 x Spin Tennis H..
Product Code : 43SBST
This is a classic! Such a simple game provides so much entertainment. Great for improving han..
Product Code : 56TTS
Replacement ball for Spin Tennis (Totem Tennis). Consists of a tennis ball and nylon cord. Can al..
Product Code : 56TTA
Showing 1 to 3 of 3 (1 Pages)