Measuring Wheels
Durable, lightweight and compact portable measuring wheel measures up to 10,000m. Easy to use: si..
Product Code : 36MWC
Ideal for marking Athletic Sectors, Court & Feild Boundary Lines . Webbing has eyel..
Product Code : 36ST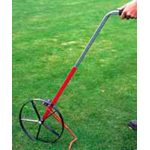 Professional machine for use on grass or hard surfaces, fold down handle for easy storage. Measur..
Product Code : 73-58225
Showing 1 to 3 of 3 (1 Pages)